Employee engagement is a workplace approach resulting in the right conditions for all members of an organisation to give off their best each day, committed to their organisation's goals and values, motivated to contribute to organisational success, with an enhanced sense of their own well-being. Employee engagement gives us an idea as to how the behaviour of employee at work place defines business success or failure. Employee engagement is a two way process where the business values the employees and the employees value the business. Engaged employees are energetic, creative, motivated, aligned to the values and vision of the organisation, and have a sense of ownership of work and organisation. Employee engagement is about the employees possessing the right attitude and coming up with their best behaviour at work place to yield better outcome.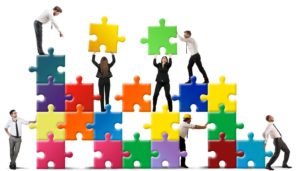 Employee engagement is measurable with the help of certain tools and questionnaires. Studies have revealed that employee engagement has a strong correlation with the employee performance. This answers the why of employee engagement. Now comes the how of employee engagement. Counsellors are deputed by certain organisations to identify the engagement gaps and analyse the bridging of the same through possible options.
Here we a take a look at the various strategies that can be adopted to enhance the employee engagement in an organisation.
Enhance the open area of the Johari Window, so that employees come to understand and know each other very well. Provide opportunities for informal interactions amongst employees by conducting games, events, celebrations, encouraging team tea breaks etc. The more they interact; they become well-knit by the threads of trust, support and belonging.
Reward your employees for their achievements at workplace. Conduct workplace achievement award nites and praise thewinners in public. It would be great motivation for achievers and encouragement for others.
Encourage work- life integration. On occasions allow your employees to work from home if they are pressed with conditions like a sick son with no one to take care at home or in the event of a motor vehicle strike. It could be the other way round also, where in the employees may be encouraged to bring the son on vacation to the office for partaking in a summer camp being conducted for the children of employees.
In a team, encourage open and honest communication. Create an environment where the team members can talk without fear and air their ideas, opinions or critical comments on an area or matter of importance.
Ensure that your employees are clear about their job profile and key responsibilities and priorities at work place. See that your employees are away from the distraction of other unrelated works.
One of the best ways to get people engaged is to make them goal oriented. Have discussion with your team members, set the goals and ask them to pursue it. They will enjoy the process.
Make your employees feel empowered by making them responsible and accountable for the work they do. In short, by doing so, you are in the process of creating leaders for your organisation.
One of the traits the management needs to develop is the trait of flexibility. Another one is being adaptive. Both these traits are very important in employee engagement, especially, if your employees are the millennial.
Encourage employees in learning. Conduct workshops for their skill up-gradation and nominate your employees for trainings and seminars. Offer them free subscriptions of learning portals.
Have a career progression plan for your employees in your organisation and ensure that they are aware about it and are motivated towards the same.
There should be fun at work place. A bit of music overflowing during breaks, thunderous laughter on occasions, a time for small talks, short spans of calls and chat, a refreshing coffee are all good fun activities to gain back your jovial moods before resuming to work.
Encourage writing of thank you cards and recognition cards at work place. This is as equivalent as a friendly pat of encouragement on the back.
Celebrate birth days with the team, with the manager/CEO by the side with a cake and merriment and unique a gift for the employee from the CEO.
Have great team outings periodically for de stressing, retreat and team bonding and come back purged forthe work.
Allow casual wears once in a while, so that people turn out colourful and expressive for the day. Let them be the way, they want to look like.
Conduct small contests and games for your employees to lift their spirits and to kindle their competitiveness.
Employees need frequent doses of motivation. Coach and mentor your employees and bring in motivational speakers.
Get them knowledgeable elsewhere. Bring in an expert and conduct an investor awareness programme, a talk on women safety, child health, internet crimes or other topics of relevance. These talks could be an eye opener for your employees.
Ensure employee health and provide support to employees when they are sick and hospitalised. Healthy employees are more productive. Try and provide executive check-up for employees, also go ahead to support and help your employees when hospitalised. Ensure that your employees are under the cover of health insurance.
Conduct the annual day of your organisation with grandeur and host it with a feast of cultural events with employee participation, networking opportunities and a memorable gala dinner.