Six Sigma involves a set of tools and techniques for process improvement. Six Sigma was introduced in Motorola by Bill Smith for quality improvement. It was an in house initiative in Motorola for reducing defects in production process. Six Sigma was later made the statistical business strategy in GE. Six Sigma involves identifying defects and removing them from the process of manufacturing products to improve quality. Six Sigma is oriented towards zero defects, quality control and total quality management.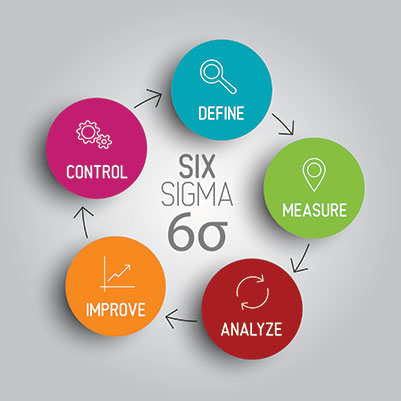 Salient features of Six Sigma
It has a strong customer focus with quality improvements and control standards based on explicit customer requirements.
It fosters team work approach to quality management.
It is intended to bring about overall business improvement.
It is set about to remedy defects or variability.
It follows a fact and data based approach.
It has project and objective based focus.
Six sigma has also been implemented in organisations like Samsung and LG. Six sigma is focussed upon the Product, Process as well as the People.
Product- Achievement of six sigma quality level
Process- Improvement of process effectiveness towards global standards
People- Building up a learning organisation, enabling the cultivation of global professionals.
Let us also get introduced to the six sigma implementation methodologies.
DMAIC- aimed at improving an existing business process
DMADV – aimed at creating new product or process design.
| | |
| --- | --- |
| DMAIC | DMADV |
| Define- The system, the voice of the customers and their requirements and the project goals. | Define- The design goals that are consistent with customer demands and the enterprise strategy. |
| Measure- Key aspects of the current process and collect relevant data | Measure- Identify CTQs , ie characteristics that are critical to quality, product capabilities, production process capability and risks |
| Analyse- the data to investigate and verify the cause and effect relationships and also to seek out the root cause of the defect | Analyse- To develop and design alternatives |
| Improve- optimize the current process using techniques and take up mistake proofing to create a new future state process | Design- An improved alternative, best suited per analysis in the previous step |
| Control- future state process to ensure that any deviations from target are corrected before they result in defects | Verify- the design, set up pilot runs, implement the production process and hand it over to the process owners. |