"The training for upcoming entrepreneurs to beat competition and open opportunities through disruptive innovation."
 Innovation in business lets you get differentiated from your competitor. Business innovation is the successful usage of your ideas in your work place that none of your competitors would have even thought about.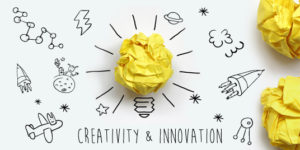 Innovations in your business can be from product to process. Innovation in business is the largest creator of opportunity as far as any business is concerned. In fact, a business entity which fails to innovate will fail and fall over a period of time.
In today's world, leadership is defined in no better terms than creativity and innovation. Hence, today's business world wants entrepreneurs who can innovate and disrupt the market in order to see that companies stay ahead of its competitors.
Lead yourself towards innovation by learning,
The concept of creative thinking, idea, invention and innovation
What is thinking outside the box?
The importance of innovation.
Innovation- its reasons and objectives
The types and degrees of innovation
The mechanism of creating opportunity through design thinking
Product/ Service innovation
Process innovation
Business model innovations
About innovations and opportunities for growth, productivity and wealth
About the common Challenges in innovation
What determines success for you entrepreneurs?
Are you offering something absolutely new for the customers?
Is your offering being perceived as one with a low pricing by your customers?
Are your customers being offered a product or service of superior quality and if so, are they aware about it?
Do your customers feel that your product or service is highly reliable?
Does your product or service usage further eases the life of customers?
If you have got a "no" for any of these questions, then it is time for you to get on board for this training.
By completing this training, participants will be more creative and innovative at work bringing out a mix of their talents, diversity and perspectives for growth.