"By completing this training, participants will develop more confidence and acquire the appropriate skill sets to become a startling presenter"
Presentation skills generally refer to one's ability to communicate effectively to an audience. It refers to the presentation of the content on a topic to an audience with the help of visual aids.
Presentations can be for varied reasons; however it is always intended to initiate an action or response or validation from the audience. Some of the presentations can be persuasive in nature, say for example sales, where as it can be informational like a project update, instructional as in schools and colleges and inspirational by leaders addressing their team in order to motivate them.  Moreover, for the presenter to gather the rapt attention of the audience, they need to possess a myriad of qualities ranging from attitude and appearance to knowledge and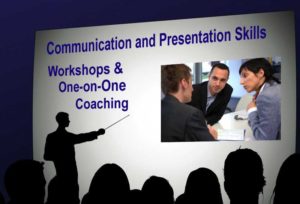 content. Before one makes up the mind for presentation, one definitely needs to analyze oneself, understand the audience, understand the purpose of the presentation and do homework on developing the content for the presentation. Planning and structuring a presentation is a key factor in its success. The kind of interest getters you may utilize, the facts which you elucidate, the stories and anecdotes you may narrate, the metaphors you will apply, the relevant quotes and situations jokes, all sums up the success of the presentation. Good presenters are really good at engaging the audience and deriving their interest.
 Build your skill sets for becoming a startling presenter by
Analyzing your present abilities and stuff
Overcoming anxiety, nervousness and fears
Mastering the art of planning and structuring
Developing a delivery content of excellence.
Focusing on your audience
Enhancing your body language
Improving your verbal versatility
Understanding the tools to engage with audience
Acquiring probing and questioning skill sets
Knowing the science and art of creating power point presentations.
Do you possess effective presentation skills?
Do you experience fears or nervousness at any point of your presentation?
Do you know the cornerstones of an effective presentation?
Do you prepare for your presentation with the audience in mind?
How can visual aids be used to create an impact?
Are you able to build rapport and engage with the audience?
Do you understand the purpose before you present?
Our training programme offers you with methodologies to overcome nervousness and help develop skill sets and strategies to become a startling presenter.